Thank you for your interest in planning a party at Brambles. Here's how to get started:
Step One: Email us the day you would like to host a party, group or meeting and how many people you think may attend. Please keep in mind that we are closed on Sundays.  Also, let us know what you have in mind for your special day.
Step Two: We will email you back and let you know if we have that date is available. Our group menu and pricing options are listed below.
Step Three: You will be required to place a deposit to make that date a confirmed reservation.
Step Four: 

72

 hours

before the event we will need a final guest count that will be used for

one bill

at the end of the day of your event.
Please keep in mind:  We try our best to have tables cleaned and reset as soon as possible but not later than 15 minutes before your group arrives.  If you would like to add items to your table you can arrive 15 minutes early.  No more than two balloons allowed.   No taping items to the wallpaper.  No glitter, feathers or hot glue guns.
We serve 15 minutes after your start time.
You can bring in table arrangements if you wish but we do have fresh cut flowers on the tables.  We can also supply a small table for gifts upon request.   We count on most parties lasting around 2 hours.  There is a $50 charge for every 30 minutes after 2 hours.
You will loose your deposit with less than a week notice before the date.
The following are options for your group party: Choose

One

Option for the entire Group:  Each option

includes tax and gratuity

 and 3 teas (Royal Wedding, Creme Brulee and Peach Paradise Herbal Decaf or your 3 selections.)

 

 
Option #1– Brambles Light Delight served on a gold 3 tier stands – four assorted finger sandwiches:  English Egg Salad, Honey Baked Ham, Brambles ​Chicken Salad, ​and Cucumber and Cream cheese. (You can substitute Smoked Salmon or Honey Turkey).  A traditional English Scone served with fresh strawberries, Clotted Cream and Strawberry Preserves @ $30 per person. Includes tax and tip. (Gluten Free option available with a $7.00 surcharge.)

Option #2 – Brambles Delight same as Option #1 plus two European tea pastries. @ $36 per person. Includes tax and tip. (Gluten Free option available with a $7.00 surcharge.)

Option #3 – Brambles Celebration – All the enjoyment of Brambles Delight Option #2 plus a glass of sparkling Kobell Brut Champagne or Mimosa @ $46 per person. Includes tax and tip.  (Gluten Free option available with a $7.00 surcharge.)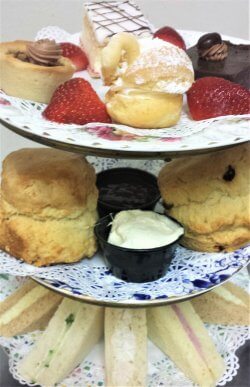 "Brambles Delight"
One tier serves 2 guest.
---
How will the seating be and do you close to the public?
We generally do not close to the public unless your party is more than 40 guests. We place our groups on one side of the tea room and seat our guests on the other side. Parties of 16 or less we can fit on one long table together . Parties over 16 can be placed together in two long tables or in cluster of tables seating 3 to 4 people. Our most popular time for parties is at 2:30 p.m. and we plan on most all our parties lasting around 2 hours.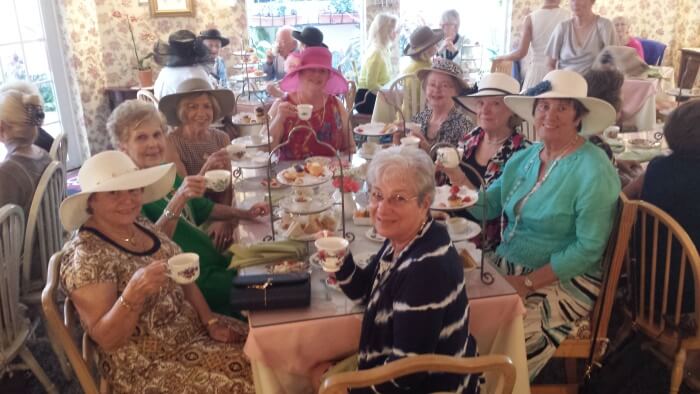 Can I book a private event for my group and what will it cost?
You can book the entire tea room up to 50 guest starting at 2:30 p.m. for up to 2 hours.  The cost is $1,700.00 this includes the Brambles Delight Option #2 for up to 50 guest.  Alcohol is offered at an additional cost.  Payment is due one week before the event date.  To complete the confirmation a $100 deposit is required which is applied to the bill.
Can I bring in a Cake or Cupcakes?
We do allow for cakes and cupcakes to be brought in for large groups from a professional baker.   We charge a $2.00 per person for cutting and plating on our china and service for all items brought in the tea room.
Can I bring in Alcohol?
We don't allow any alcohol to be brought into the tea room. We do offer champagne, wine and beer. If you choose to have alcohol at your party our most popular menu is our Brambles Celebration in which each person is served one glass of champagne. Please be sure to inform us and your guest if additional glasses are allowed and who will be responsible for payment.
Can I have an early morning business meeting?
We offer business meetings starting at 10:00 a.m. giving one hour for private presentations. We can bring out a planned menu at the beginning or after the presentation there is no hurry to leave but we do open to the public at 11:00 a.m.
Can my party order separately and pay separately?
Groups under 12 can order and pay separately. Since our customers pay their bill in the gift shop we ask that just a few at a time go up and pay at the register.  Groups over 12 will be asked for one person to be the representative of the group along with a credit card to hold the reservation.  We will work with the group representative on the menu for the group and how the payment will be handled.  Groups over 12 will be required to put a $25 deposit down to hold the reservation the deposit is applied to one final bill at the end of the meal.  Please refer above for types of menu options for large groups.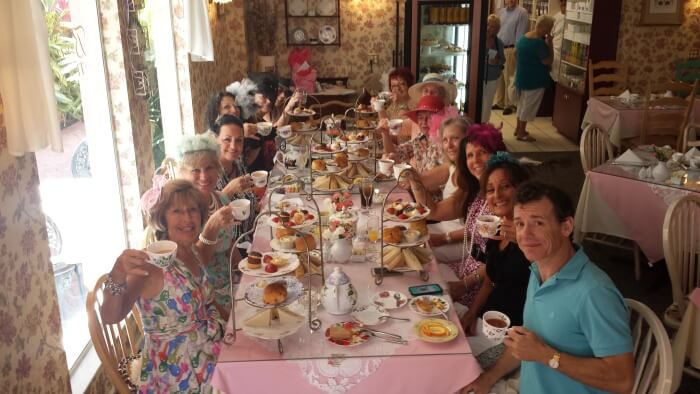 ---
"Parties for Children"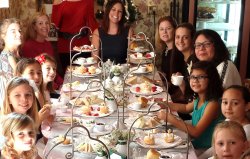 Can I have a Children's Birthday Party?
Brambles has always welcomed children to the tea room. We do not do children's parties December through March.  Children must be at least 8 years old.  We do use fine bone china for our parties.  We require a $25 deposit and there is one bill for the entire party.
We host children parties for up to 12 seats 3 must be adults at 11 a.m. to 12:30 p.m. on Saturday mornings in the off season.  We serve our Mini Brambles Delight on our 3 tier stands.  Each child will receive 3 tea sandwiches (1 peanut butter and strawberry preserves, 1 cucumber and cream cheese and 1 honey ham.) One scone served with honey butter, strawberry preserves and fresh strawberries.  On the top tier will be one Chantilly Swan Cream Puff.   We also serve in our tea pots a choice of hot cocoa or pink lemonade.  We charge $2 per person for any cake or cupcakes brought in from a professional bakery.  We allow one balloon to be brought in for the birthday chair.
We do not allow glitter, feathers, beads or craft projects in the tea room.  We require all children to stay with their party till the end of the event.  When making a reservation please keep in mind your party may have up to 12 seats total this includes children and adults. Other guest are not allowed to be in the tea room unless they are a part of the party.  We will put a candle on the Swan of the birthday person and sing Happy Birthday when we bring out all the tiers.   There will be an additional charge for broken tea cups or excessive cleaning that would necessary to be able to seat our next guests.  Mr. Brambles our resident Teddy Bear will be seated at the table upon your request.