Q: Are Gift Certificates Available?
A: Gift Certificates are available in any amount. Gift Certificates may be used for food or gifts in our gift shop. You can purchase gift certificates in the gift shop, or we can take your information over the phone and mail one out.
Q: Do I need a reservation?
A: You do not need a reservation. We love to know your coming so we can have a table picked out ready for you. In the months of January through March it is highly suggested to make a reservation. When you make a reservation you can tell us information that it is someones birthday, you will have a wheelchair, you would like to have our resident Teddy Bear "Mr. Brambles" join your table. Please call us at 239-262-7894. If the line is busy leave your information and we will call you back with confirmation.
Q: Do you have smoked salmon available for tea?
A: We do have smoked salmon on whole wheat available upon request. Our normal tea sandwiches include Brambles Chicken Salad, Honey Spiral Ham, Egg Salad and Cucumber and Cream Cheese.
Q: Do you have Gluten Free menu items:
A: Please inform your server that you would like to have a gluten free meal. We can prepare our Shepherds Pie, Coronation Chicken Salad, Salmon Balmoral, Amy's Fruity Chicken, Chicken Caesar, Shrimp Caesar, and Nicoise Salad gluten free.
Q: Do you offer a Gluten Free Afternoon Tea?
A: We need a 24 hour notice to prepare a gluten free tea consisting of tea sandwiches, scone, and chocolate truffle. There is a $5.00 surcharge added to our Afternoon Tea price. Click here to view our Afternoon Tea menu.
Q: Who is Mr. Brambles?
A: Mr. Brambles is our resident Teddy Bear.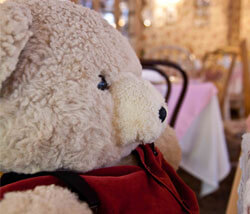 The legend about Mr. Brambles is that he was visiting Naples Florida one day and decided to stop in for a spot of tea. He became so in love with the tea room that he became a permanent resident. Mr. Brambles can be reserved to be at your table for tea. It is known that Mr. Brambles has his own tea party after the tea room closes. He shares stories with his friends that come to life from the garden about the children that he had tea with that day. His wife Mrs. Brambles in her red hat that sits in the back of the tea room keeps a close eye that good manners are used.